The Ultimate Guide On Cotton Ethnic Sarees
Posted by GO NATIVE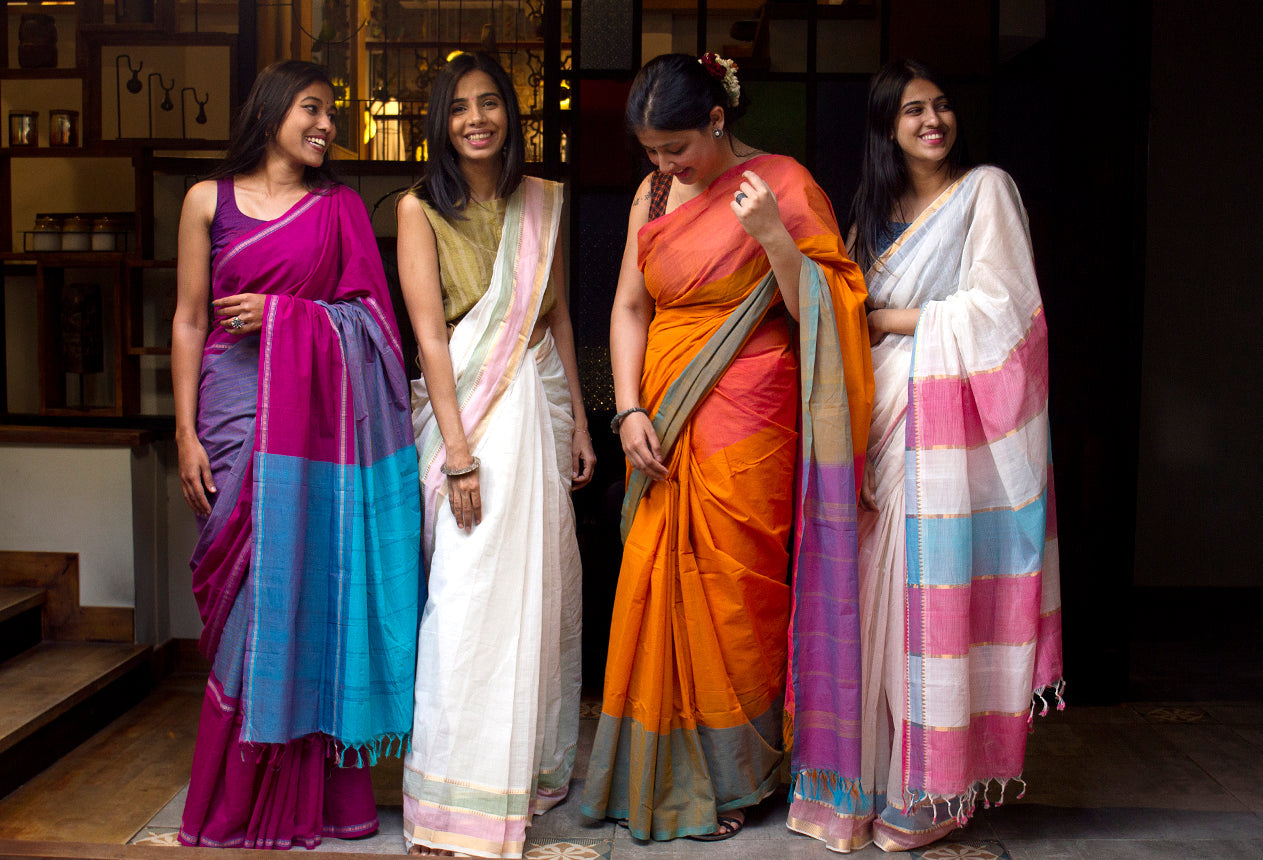 A 2000 years old craft, the handloom sector is the 2nd largest in India, after agriculture. Indian sarees are known for their versatility, strength and elegance.
Over the years, we have stood witness to several fashion trends - but none as inimitable as the saree. An embodiment of comfort, grace and womanhood, the saree is simultaneously forgiving and powerful.
History Of Cotton Sarees
The term 'sari' originates from the word 'sattika' from the primitive Jain and Buddhist texts. The first known portrayal dates back to the figurine of an Indus valley priest in a drape. Back then a single piece of unstitched cloth was used to cover the whole body.
The cotton saree has its birth in both South and North India. The Indian subcontinent is the abode for the Cotton produce.
The skill of weaving and dyeing of cotton was recognized in India some 5000 years ago. Every state has its own time-honored cotton weaving practice. and its own aboriginal area of expertise in cotton fabric, with different weaves, textures, motifs, printing techniques and colors.
These are the most preferred sarees by Indian women as they can be easily integrated into everyday wear, especially during summer months.
Types Of Cotton Sarees
The famed cotton sarees areas in India range from:
-Jamdani cotton sarees of West Bengal and Uttar Pradesh - Often referred to as "woven air", Jamdani collectively stands for handwoven drapes with floral motifs.
-Tant, also known as Bengal cotton saree, is woven with the finest and most ancient weaving technique. The hallmark of a Tant saree is the use of locally grown cotton, whose handspun yarn adds to the feather-like texture of a Bengal cotton saree.
-Sambalpuri, Bomkai and Vichitrapuri cotton saris of Orissa known for the multiplicity of colors and traditional nature motifs-
Chanderi Sarees in Madhya Pradesh with a silk warp and cotton weft. An expert weaver takes almost 3 - 15 days to weave a Chanderi saree with precision, skill and finesse.
-Maheshwari sarees of Madhya Pradesh in unadulterated cottons or silk/cotton mix, with check patterns. A speciality of a Maheshwari saree is its reversible border, known as bugdi, which can be worn on both sides.
-Hyderabad is well-known for its antique Venkatgiri fine cotton saris - idyllic for summers - primarily in off-white and adorned with dull golden motifs.
-Nander in Andhra Pradesh is renowned for its fine eminence of cotton sari ornately worked in gold thread with silk border.
-Pochampalli sarees of Andhra Pradesh are woven with the ikat patterns, where the yarn is pre-dyed.
-In Tamilnadu, centers like Kanjeevaram, Salem, Pudukkottai and Madura are well-known for cotton weaves with motifs & checks.
-Kerala's Karaikudi sarees are made of unbleached cotton with rich broad gold borders and pallus-
-Tie and dye cotton sarees from Rajasthan and Gujarat are multihued, dyed in vivacious and bright colors.
-We also have the Ikat sarees of Karnataka and the Narayanpet sarees of Andhra Pradesh
-Handloom khadi sarees are also an integral part of India. Khadi Cotton has been known as the 'fabric of Indian independence', since 1918. It is woven manually using handspun yarn only. The interweaving of threads provides utmost passageway of air to the body, thus making Khadi a perfect summer wear.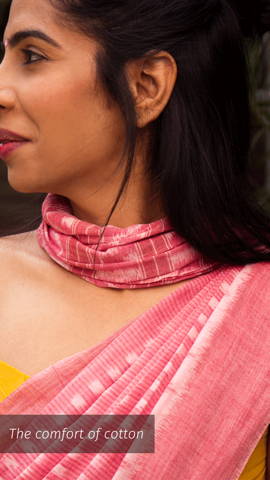 Benefits Of Wearing Cotton Sarees
Easy to drape: Cotton sarees are soft and easy. These sarees look exquisite in all circumstances.
Comfortable: Cotton sarees are breathable and could be worn in both summers & winters. Cotton is innately hypoallergenic, so you get no complaints of rashes and itching due to heat. It absorbs sweat and is gentle on your skin.
Versatile: Cotton sarees can be worn as office wear, for birthday parties and weekend picnics with friends! They let you jump, dance, run, move, work, lounge - just be you.
Simple Care: Unlike silk sarees, cotton drapes are easy to handwash at home. Cotton sarees should be gently washed at home in cold water without any harsh detergent.
Styles Of Draping A Cotton Saree
There are numerous ways to drape a saree - each culture in India has their own authentic way of draping.
Bengali sarees are traditionally draped with a back to front pallu, without any lower drape pleats.
In the Gujarati style of draping, the saree pallu comes in the front to highlight the look by extending it covering the whole front bodice.
In Maharashtra, the saree draping method was draped in a particular style for women to remain active and comfortable while going about their daily chores like fishing, etc.
In Kerala, the set mundu is draped once around the waist, whereas a double set mundu, has to be folded in half before draping.
In Assam, the mekhela chador is a three piece attire comprising of blouse, top pallu and bottom wrap.
Cotton sarees have their own charm, and there are multiple reasons to add this ethnic wear to your wardrobe, especially during summers.
The luster of cotton sarees stays on for years and they can be handed down from generation to generation.
Go Native
Birthed from the belief that there is no apparel more classy and comfortable than a saree, at Go Native, our dream was to make sarees more accepted and loved by women in their 20s and 30s - not just an occasional garment borrowed from our mothers, but something that we make space for in our own wardrobes.
Our sarees are handwoven by skilled weavers from Bengal, Kota, Chanderi, Maheshwari, Mangalgiri, Chettinad and Banaras - heirlooms for the millennial generation at affordable and accessible price points.
Check us out here: https://gonative.in
Collection 2019
Sale 70% Off
Title for image